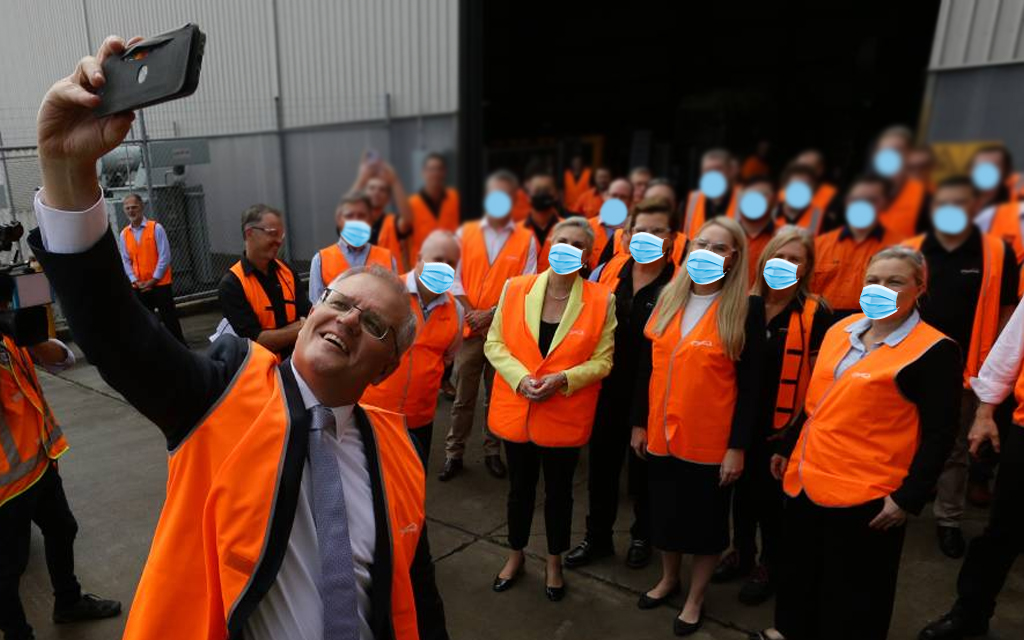 CLANCY OVERELL  | Editor | CONTACT
As the Australian media recoils from a big week of pearl-clutching after the former Australian Of The Year Grace Tame refused to be a sweetheart and smile at the Prime Minister during a photoshoot last Tuesday, concerns are growing within the Liberal Party about the possibility of the same thing happening again.
The Murdoch cheerleaders and culture wars dependent politicians in the Coalition were then forced in to overdrive in their efforts to drum up a narrative that the staunch advocate for sexual assault survivors is nothing more than a bratty political agent who refused to stroke Scotty From Marketing's ego because she is a childish leftie who loves taxes and hates Australia.
However, with last night's devastating new poll numbers showing that support for the Liberals-National Coalition has slumped to the lowest levels since the 2018 Liberal leadership spill, the Morrison government has moved to minimise the unflattering body language of young women during the Prime Minister's photo opps.
The cold reception that Scotty receives from untamed young women has been a growing worry for his marketing team, ever since he forced a pregnant bushfire survivor to shake his hand in the main street of Cobargo during the Black Summer Bushfires.
Then there was the female NRL trainer who refused to pose with him in the Parramatta Eels training room after the allegations surrounding the alleged rape of one of his staffers in a cabinet ministers office in March last year.
Now with Grace Tame concreting the trend of young women not hiding their emotions around the powerful red-blooded Christian on the lawns of The Lodge, Scotty is hoping to bring in legislation that will hide their faces from the world.
Despite previously using mask mandates as a tool for sledging the Labor governments who kept asking him for federal help, Scotty From Marketing has today decided he'd like the Premiers to re-introduce them.
"We can never be too careful. We don't want to risk anyone getting sick in this pandemic. We need to bring back the masks. Particularly for young women, I've heard they are the most at risk of this virus" he said, blatantly changing his position.
"Like, it's completely up to them. I don't want my name attached to this… But I'd really like them to do it"
"It could work out quite well for them if they comply… Maybe there's a couple of footy stadiums that need a bit of reno… ya know?"
"Maybe we can help with some roads… Or like schools, I dunno. What needs funding?"
This backflip on 'personal responsibility' would have been met with backlash and accusations of hypocritical target-shifting 12 months ago, but it seems the public are so used to this kind of shit that they have just sighed and let it fester inside of them.