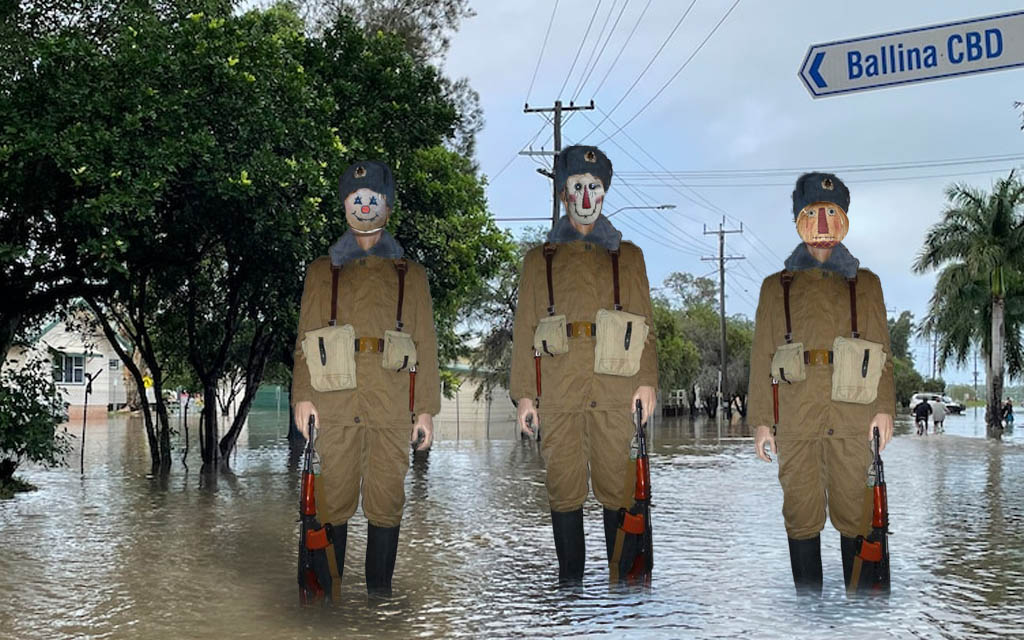 CLANCY OVERELL | Editor | CONTACT
With the desperate cries for government help still going largely unanswered in places like NSW Northern Rivers, locals have tried a change of tack.
With mountains of debris piled along streets in places like Lismore, Broadwater, Coraki, Murwullimbah and Mullum, residents have started erecting scarecrows to capture our leader's attention.
Historically designed to scare off crows from crops, these new Northern Rivers scarecrows are actually designed to attract attention.
Mirroring the look of Russian soldiers, the scarecrows have been installed around the region in the hopes that the Federal Government will fixate on them, and more importantly direct a bunch of troops and resources their way.
This comes after the government announced it was donating 70 million dollars in weapons and 35 million in aid to support Ukraine in the face of a Russian invasion.
The announcement which came quickly and without any questions asked has left people in our own flood-affected regions asking where their support is during this harrowing time.
With telephone reception still nonexistent, food being delivered in by community organised helicopters, fuel being rationed out, mountains of rubbish on the street, and a death toll climbing, it's hoped that the emergence of a few Russians will get the government jumping on the issue quick smart.
"Help, our national security is under threat," yelled one Coraki local from behind a newly erected scarecrow on Queen Elizabeth Drive.
"Oh no, save us, strong leaders protect us from evil Russian villains."
"Send up some help before we turn into communists."
The government has yet to respond to the allegations but it's believed some sternly worded comments about the appearance of scarecrows are on the way.
More to come.