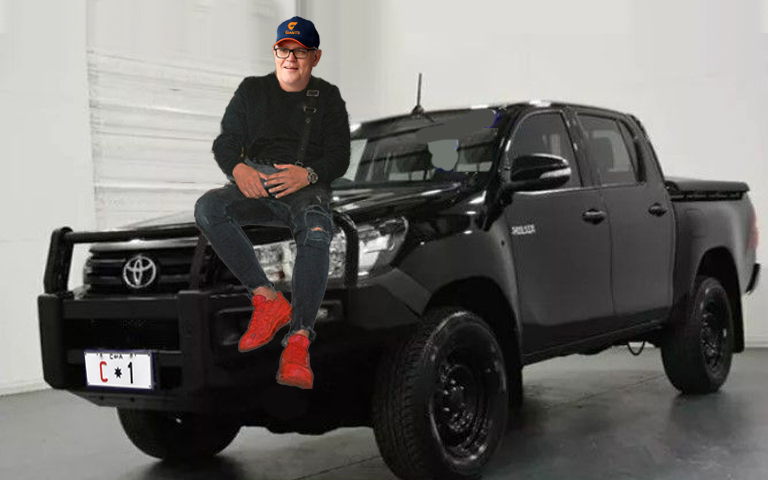 CLANCY OVERELL | Editor | CONTACT
IT'S HECTIC BRo: The PM has today continued his last minute campaign to win over the crucial Lebanese vote, after damning allegations of racist bullying within his inner-circle of the Liberal Party.
Starting by switching up his choice of government vehicle to an all black dual-cab hilux.
Explosive revelation have come to light that the Lebanese man who initially beat Scotty in a ballot to contest Cronulla for the Liberal party 15 years ago had his life ruined by the now-prime minister, who spread rumours about about his Lebanese heritage to undermine him.
Prominent Sutherland businessman Michael Towke has this weekend emerged for the first time in years to confirm that Morrison had told the party in 2007 "a candidate of Lebanese heritage could not hold the seat of Cook, especially after the Cronulla riots" and there was a "strong rumour" that Towke was a 'Moslem' and was therefore a dodgy businessman – despite the fact he was actually a devout Catholic.
With Arab Australians making up a crucial block of voters in some of Sydney's most marginal swing seats, Scotty has had to move quickly to disprove any sentiments that might suggest he views Arabs of any religious order as expendable punching bags that can be vilified and ridiculed to further his political ambitions.
While Morrison's treatment of Mr Towke has been common knowledge amongst literally everyone in Canberra for over a decade now, it seems that the Prime Minister has done a good enough job of losing this election himself that both the media and his own party are throwing him under the bus.
But the PM has today done his best to put the allegations of racism to bed, by first getting a fade haircut, then announcing his lifelong loyalty to the Canterbury-Bankstown Bulldogs.
However, his decision to replace all Commonwealth vehicles with a new fleet of dual-cab luxys, appears to be the boldest play to win back Lebanese voters.
"I always wanted to the jet black dual cab luxys" said the PM.
"I thought they were hectic, but the rest of my party wouldn't allow it."
"The new luxys are just a small token of my appreciation for my Middle Eastern brothers and sisters. Honest wallah"
"Cuz would I lie to you"