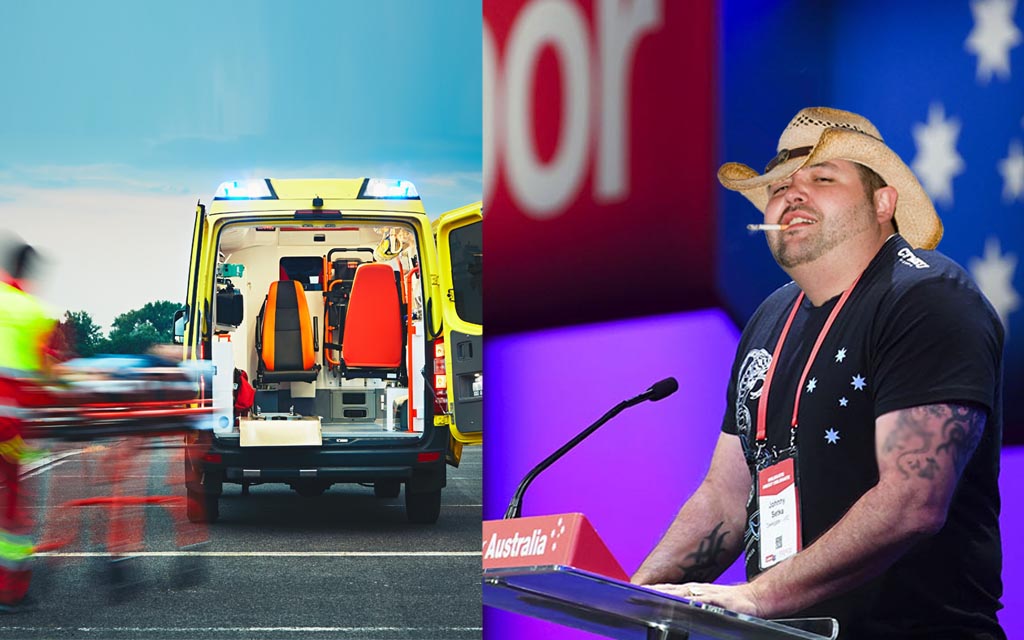 CLANCY OVERELL  | Editor | CONTACT
There have been reports of a rather noisy Quiet Australian being hospitalised in Central Queensland this afternoon, after gatecrashing a regional Labor branch meeting to relay Sky News talking points in front of the recently selected local candidate.
Complete with his salmon Calvin Klein polo, local property investor Huxley Hector-Darby (55), was last seen leaving a local country hall in an ambulance – following the poorly worded accusations that he levelled towards a prominent True Believer and aspiring Member of Parliament, while he was speaking at the lectern.
The Labor candidate, Jerome Knoxwell (39) is believed to have taken great offence at Hector-Darby's comments, which implied that anyone representing the Australian Labor Party are taking direct orders from The Greens.
But it wasn't the type of offended that can be solved through posting an 32-tweet manifesto on Twitter, it was the type that can only be resolved through swift Central Queensland justice.
Police say they believe Huxley Hector-Darby had burst into the local branch meeting to accuse the new Labor candidate or being a shill for inner-city lefties in Melbourne, and that the ALP logo was nothing more than a bat signal for communist hippies – a theory that is peddled heavily in Murdoch's coverage of Federal Politics.
Knowell, a card-carrying CFMEU member with 8 brothers and 32 cousins employed in the resources sector, paused his speech to ask Hector-Harby to repeat himself.
"Go on then cunt. Say it again." said Knoxwell.
"Don't look around. Say what you just said to me again."
"Scomo's not here to save you now".
Police allege that the local Liberal voter obliged Knowell's request. He was en-route to the base hospital with a mild concussion and several broken ribs no less than twenty minutes later.
Despite the fact that there were upwards of 55 people at the branch meeting who were present at the time of the Triple 0 call being made, police claim there were no witnesses.
"I saw nothing" local librarian, Meredith Atwood (78), told the Betoota Advocate.
"All I can tell you is what I've already told the police…"
"None of us saw anything. It was just one of those things. Bluey Barnes was reading a magazine; Ambrose Hatcheson was taking a piss; Johnny Price was washing his hands; Jimmy Loughnan was watching a bullant crawl across the table, and I was watching Jimmy watching the bullant."