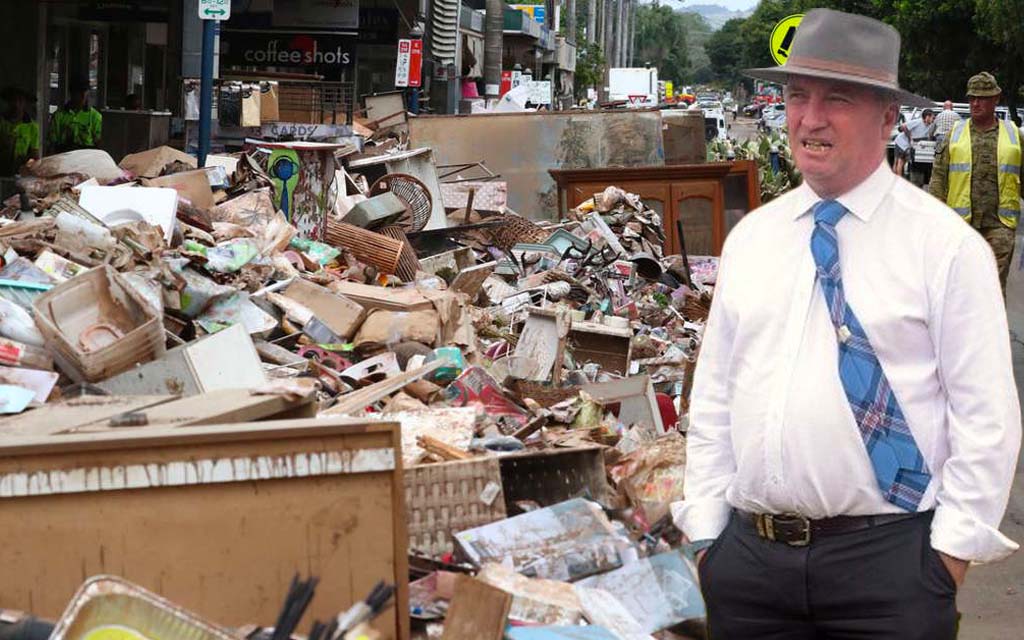 WENDELL HUSSEY | Cadet | CONTACT
The Deputy Prime Minister has finally been called upon to do a little bit of work today.
Not by helping out in the regions devastated by floods, but by scouring the centre of Lismore in search of some local residents who can help him out.
With the government more on the nose than the smell of everyone's belongings rotting in the heat, Joyce has been asked to find some flood victims who'll agree to go on camera with his boss – without abusing the PM.
10 days after the peaking of floodwaters in Lismore, the Prime Minister and his band of merry media men have finally made the trip up to the region that has been unprecedented devastation.
With a few army boys finally rolling in to help clean up the retail chains that make up the Lismore Square, Morrison is hopeful that the town will be in the mood for him to lift their spirits.
So, in desperate need of a few images to show quiet apathetic Australians that he's a good leader, Morrison has tasked Barnaby with getting a few nodders and handshakes for some photos.
Walking down Woodlark street in the middle of town, the man in charge of the party supposed to represent the regions reportedly struggled to find some people with good things to say about the government.
Marvelling at the sheer amount of debris that hasn't been moved by people like our highly resourced and time-rich Australian Defence Force, Joyce said he was having a bit of a hard time getting people to play ball.
"Obviously as the relatable regional man the PM and his team sent me down here to chat to the mud militia, but given they feel abandoned by the government after 10 terrible days, no one's really keen to smile and shake hands," explained Joyce.
"Even the quiet Australians up in Goonelabah aren't that keen on the niceties."
"I don't know why, it's the state government's fault that they didn't ask for the army earlier," said the man who could have easily just asked the army to roll in at any point.