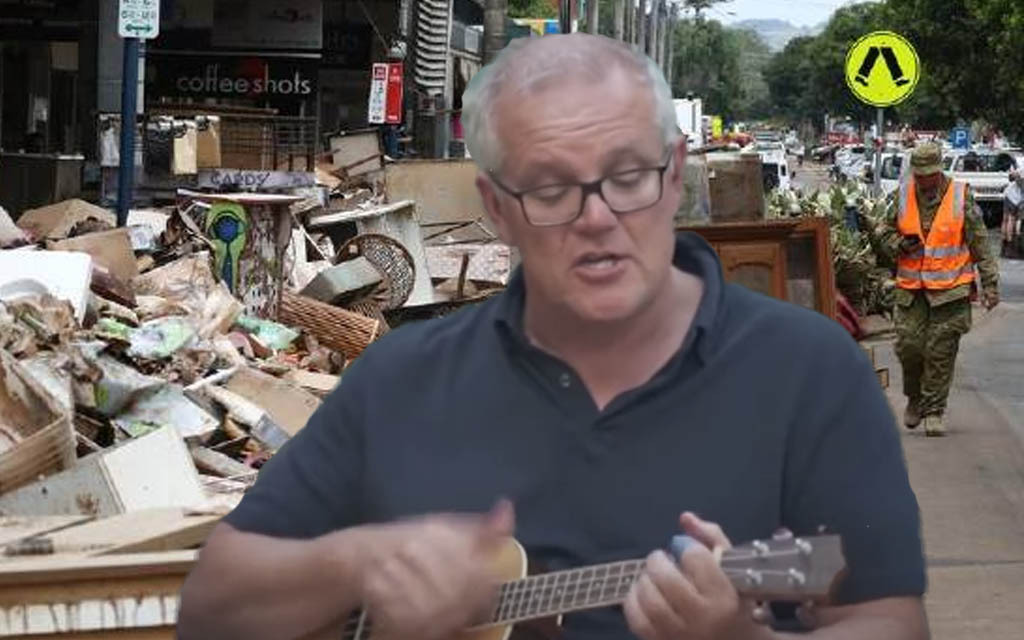 EFFIE BATEMAN | Lifestyle | Contact

Though Prime Minister Scott Morrison has developed a bit of a reputation for not being prepared, the same can't be said for his visit to Lismore this afternoon – this time, he has with him an arsenal of tools needed to pacify angry residents.
Armed with a bullet proof vest and strategically coated with artisanal fake dirt, Scott was also seen browsing a few Wikihow articles on 'empathy' and practising looks of concern in the mirror earlier that morning and delighting his staffers with his strange new facial expressions, which sent them spluttering into giggles like toddlers playing peekaboo.
Knowing that residents were likely feeling quite distraught or 'down in the dumps' as he preferred to call it, Scotty figured the best way to bring the community together wasn't through getting more of the ADF involved with the cleanup but through his favourite artistic medium – music!
It's alleged Scotty had initially sent out Barnaby Joyce first to act as his own personal cannon fodder, scouting the streets for residents who at least looked politely tightlipped instead of furious – a feat that was considerably hard, seeing as the residents had all just spent ten days seeing a town they loved turn into something they could no longer recognise.
Nonetheless, an unperturbed Scott persevered in his bid to net himself at least one photo he could upload to his insta, bringing out his ukulele to both drown out the sounds of people's shouting and to #bringthecommunitytogether.
"Alright, I know, I know, you're angry" said Scotty, as he starts strumming a few chords, "but I think I know something that can help.'
"…it's gonna take a lot to drag me away from yoooouu."
"There's nothing a hundred ADF or more could ever dooooo."
'Haha."
"I bless the rains down in….LISMOOOOOOREEE."
"Gonna take some time to do the things we never had OOHH OOHH."
More to come.Scotty Calms Down Flood Victims By Replacing 'Africa' Lyric With 'Lismore' In Stirring Toto Cover