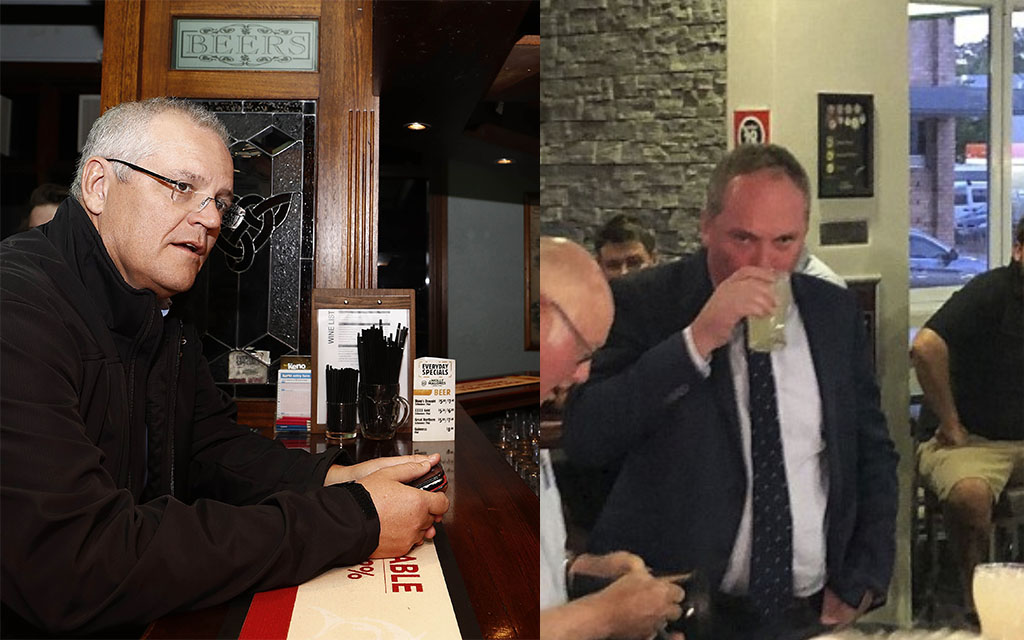 ERROL PARKER | Editor-at-large | Contact
Our Bloke-In-Chief has had a pretty rough day and like nearly every red-blooded working man, that means a trip to the pub is in order.
Telling his own Chief-Of-Staff that he was only going for one, a Hahn Light Shandie with a dash of red cordial, Scott Morrison ran into the last bloke he wanted to see after this day from hell.
"Oh for fuck's sake," said Morrison as he walked into Manuka's Public Bar.
"Of course, he's here."
At the other end of the bar, Deputy Prime Minister Barnaby Joyce was enjoying a schooner of vodka Lift and a chat with some agriculture advisors.
"Oi Scozza!" yelled Barnaby.
"Come over and meet this blue-eyed cunt here, he's from AusCott!"
The Prime Minister let out the longest, most pained sigh a grown man can do without making the people around him feel weird.
"Righto, mate! Coming!"
As the bartender returned, Morrison left $4 in silver coins and told the bartender to keep the change as he moved his way over Joyce.
"Let the blood-letting behind," said Morrison.
More to come.