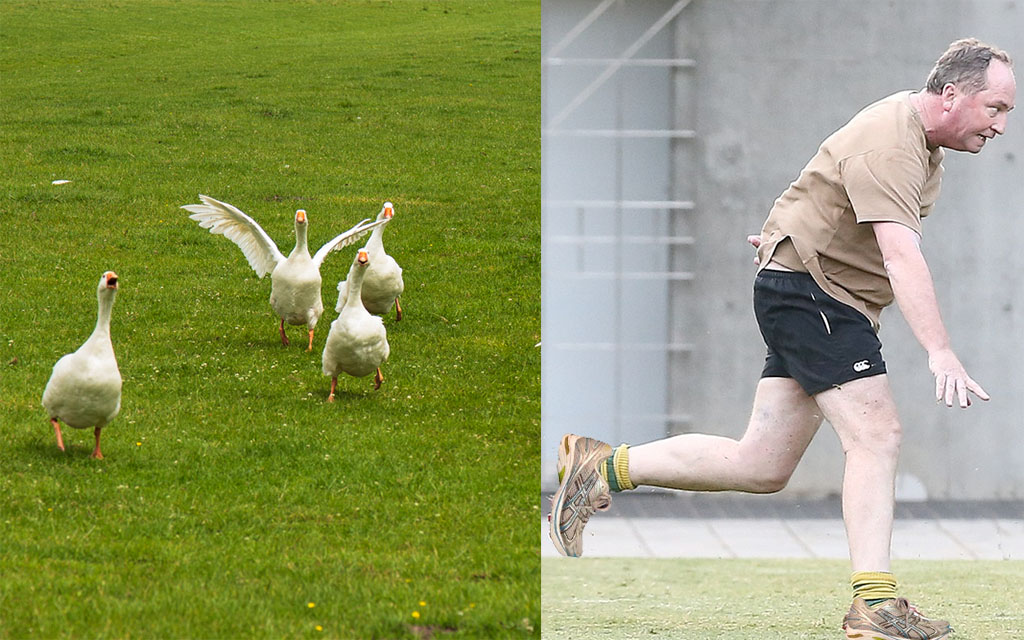 ERROL PARKER | Editor-at-large | Contact
Deputy Prime Minister Barnaby Joyce says the details of his ongoing feud with a gang of Canberra geese is between him and the geese only.
Mr Joyce was pictured this morning running from half a dozen geese on the banks of Lake Burley Griffin, which prompted questions from the media.
"My issue with those geese is nobody's business," said Joyce to our reporter this afternoon.
"I can't go for a simple walk around the Lake to clear my mind without them sneaking up on me and pecking my legs. When I'm wearing my noise-cancelling headphones, it's even worse. I can feel one peck and it scares the shit out of me,"
"Imagine going for a walk and getting a shock like that."
The Member for New England then explained that he knows that cameras are on him constantly, which is why he's never chosen to fight back against the geese.
"You know, if I was back home in Danglemah, I would've got the 410 out from behind the door on the back verandah and blow that king goose's head off. You know what a king goose is, right? It's like the alpha male one that stirs the other ones up and they gang up on you. One on one, I reckon I could kill a goose with my bare hands. I would hate to do it because I'm an animal lover but if it's me or the goose, fuck the goose," said Joyce.
"And I wouldn't let it go to waste. I'd process the goose and have it for dinner."
The feud comes almost 15 years to the day that Mr Joyce was accused of stealing swan eggs from a Tamworth park. Swans in the Commonwealth are considered the property of Queen Elizabeth II so the accusations were quite serious.
Though never charged, Mr Joyce was heard telling Senate colleagues at the time that HM The Queen knew how delicious swans and their protein-rich eggs were and that was why she was keeping them all for herself.
Member for Kennedy Bob Katter was able to confirm swan meat is 'scotch fillet' of the avian world but denies ever shooting one on purpose.
More to come.