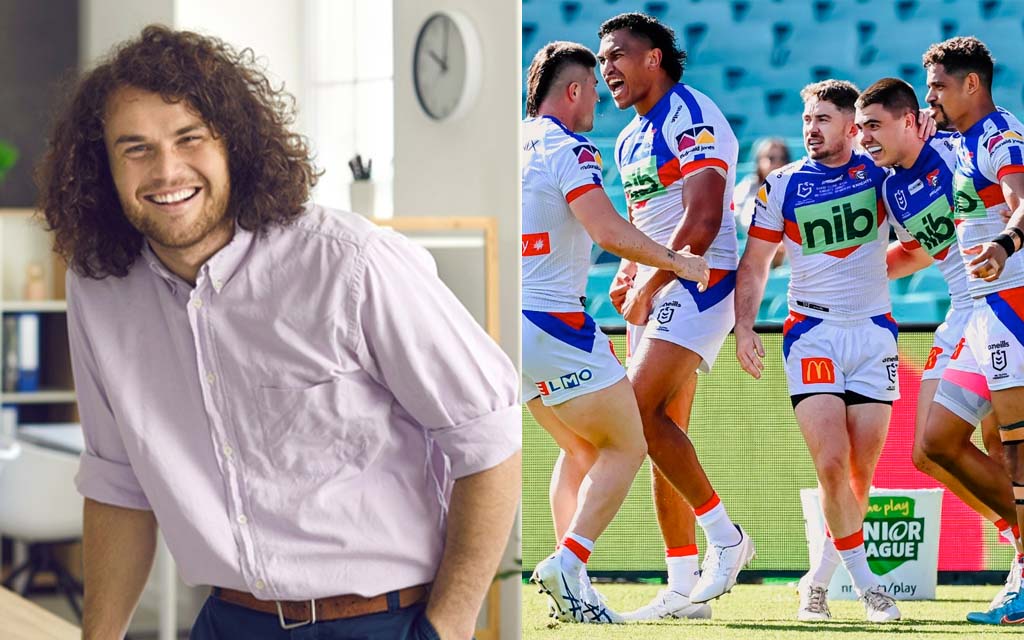 KEITH T. DENNETT | New South | CONTACT
A Newcastle-born Sydney-sider is insufferably chipper today, thoroughly enjoying his Monday return to work.
Strutting into the office of his engineering consultancy in Martin Place, young project manager Dane Randall (25), appears to have lost all sense of professionalism, instead choosing to spend the day speaking as if he's an apprentice boilermaker.
A former 2nd grader for the Central Newcastle Butcher Boys, who moved to the Harbour City to chase the riches of metropolitan life, Randall's buoyant mood appears to be inspired by the weekend performance of his beloved Newcastle Knights football team.
Taking on the Premiership contenders, the Sydney Roosters, the Hunter based team defeated the Eastern suburbs side 20-6 at the Sydney Cricket ground on Saturday.
Swigging from a large bottle of Double Espresso Iced Coffee, young Dane was spotted turning to his office superior, Bronte local Marcus Robinson, to begin inquiring about the quality of his boss's weekend.
"Oi, how's ya weekend bra?!"
"Did ya catch the footy, that Newy game was sick aye!".
Confused and thoroughly unimpressed by Randall's unprompted switch to blue-collar language, Robinson is believed to have shaken off the opportunity for pleasantries and simply reply, "It was fine, thank you".
Speaking to The Advocate, Randall admitted that he was still experiencing a wave of post-weekend euphoria, thanks to the uplifting performance of his often struggling football club.
Heavily backed as wooden spoon favourites, it's understood many Rugby League fans across the country were surprised to see the Newcastle outfit win in the opening round of the NRL.
"Yeah the Knights got up, I smashed five VCR's in the city and almost jumped on the train back to Newy to celebrate with all my mates at Finnegans."
"I mean, we're probably gonna get beaten by the Tigers next weekend, so just let me have this early crow, it's a lot more satisfying than what the Roosters dished up!"