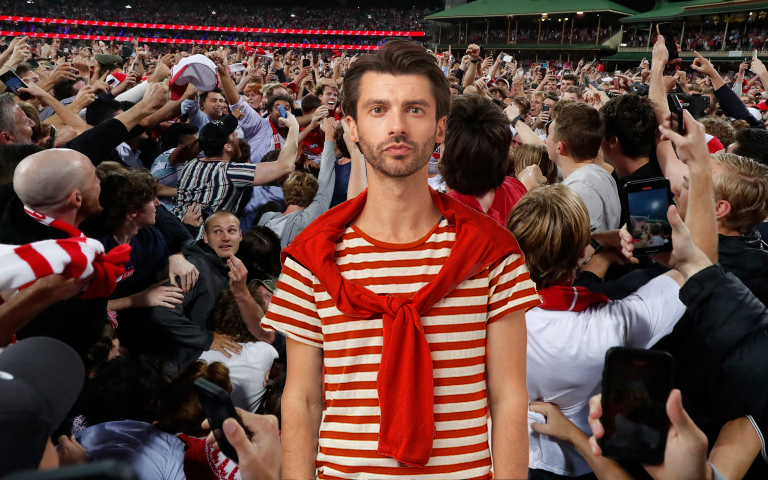 CLANCY OVERELL | Editor | CONTACT
5 minutes before the final buzzer on Friday night's AFL match at the SCG was a moment that will go down in Australian sporting history, as Sydney Swans icon Buddy Franklin kicked his 1000th goal.
Tens of thousands of fans stormed onto the SCG turf to celebrate with the footy star, after he became just the sixth player in Victorian football history to pass that milestone.
In a city addicted to rules and regulations, the decision to run onto a football field like a common criminal is an experience that will stay with many of the Swans fans, as they relish in their newfound rebel status.
One of these fans is Bondi-based e-commerce social media strategy consultant, Jordin Amalfi (33). He says he barely got any sleep on Friday night, that's how high he was from the euphoric scenes that took place.
"That is what it's all about" says Jordin.
"I don't think you can get that kind of feeling with other sporting codes"
As a corporate creative now living Sydney's East, Jordin ditched the uncouth rugby league jerseys of his inner-west childhood when he moved to Bondi, which was coincidentally around the same time Buddy Franklin did too.
That's why Friday night meant so much to him.
"Man. I know it was completely out of control…" says Jordin, as he he recalls the 15 minutes where crowds ran into the middle of the oval, before politely returning to their seats to watch the remianing five minutes.
"But that's what you get on the big matches. Apparently it's never happened before. 1000 Points"
"Say what you want about the behaviour of AFL crowds . But I'll always have that with me"
"I got to touch Budgie Franskton's ear lobe fter he scored his 1000th point"