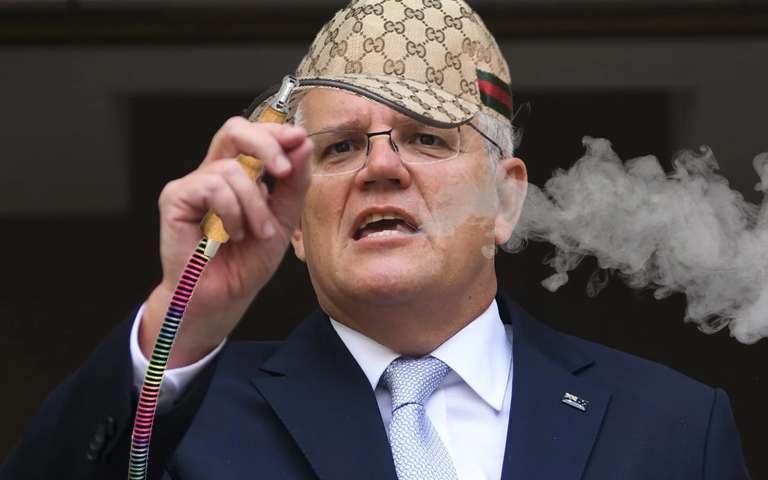 CLANCY OVERELL | Editor | CONTACT
Scotty From Marketing has once again flatly denied the claims made by high-ranking members of his own party that he is outgoing is an "autocrat" and a "bully" – particularly towards people of Middle Eastern descent.
On Tuesday evening, Liberal Senator Fierravanti-Wells told the Senate there were statutory declarations claiming that when Morrison ran for the seat of Cook in 2007 he made "racial comments" about Towke, a Lebanese-Australian.
Towke won the initial ballot 82 votes to Morrison's eight but Fierravanti-Wells noted the state executive later "voted 12 to 11 not to endorse Towke and ordered a modified selection process".
"The only way that Towke could get political exoneration for a future run was to agree to put his numbers behind Morrison."
The Saturday Paper and the Sydney Morning Herald reported that those statutory declarations, signed in 2016, claimed Morrison called Towke "a Moslem" – and spread career-ruining rumours about him being a 'dodgy businessman'.
However, the Prime Minister has today front a press conference to say he could not reject these allegations "more fundamentally".
"Nah straight up" said Morrison, sporting a new Gucci cap, in his most recent effort to win over the Lebanese community.
"Oi wait up… Let me hit the shish," said the PM as he fired up the Hookah.
Talking an unnaturally big puff, Morrison then tried to stifle a cough as he plowed on with the interview.
"Gosh I love this stuff, wallah," said the Prime Minister, who has tried to re-brand as a Bulldogs loving fade enthusiast in an effort to play down allegations of racism and bullying on the eve of an election.
"This and a Kazouza after a long day's work. That's living Moey."
"I'd offer you guys some puffs, but you know these social distancing measures the governments enforced on us," he laughed.
"Bloody government"
More to come.