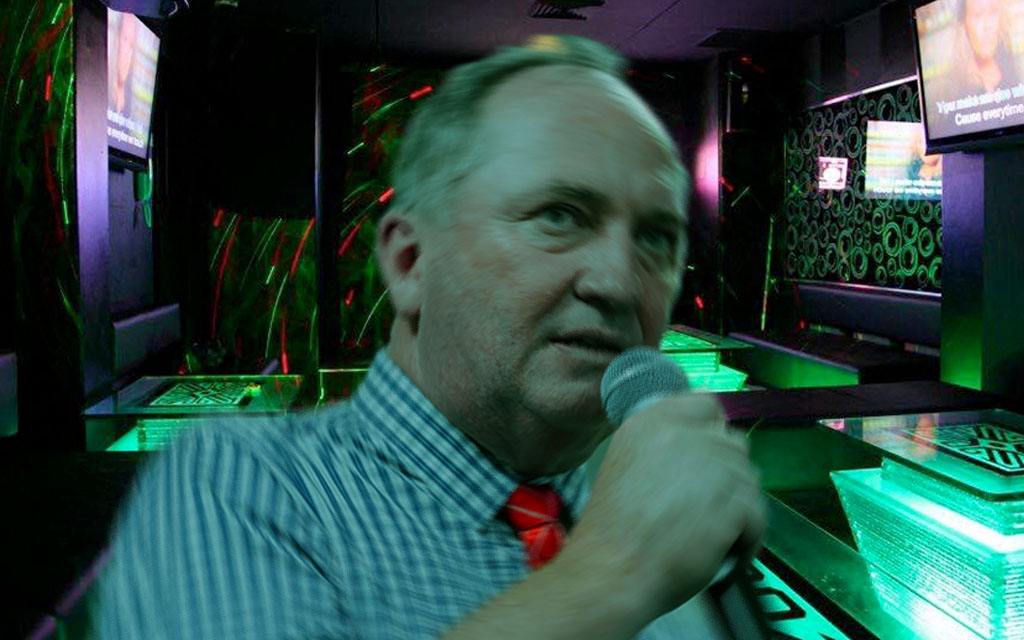 ERROL PARKER | Editor-at-large | Contact
Deputy Prime Minister Barnaby Joyce has seemingly distanced himself from Scott Morrison over the weekend by treating guests at a Canberra karaoke bar to a stirring rendition of Gotye's dreadful earworm "Somebody That I Used to Know" that he dedicated to the under-siege Prime Minister.
Coalition MPs are lining up around the block today to make sure the voters know they don't like Scott Morrison and never really have after the latest Newspoll suggests that Labor is still on track to make a historic victory at the polls next month.
The latest one being Barnaby Joyce, who made his feelings clear in the early hours of Sunday morning at a karaoke bar in Belconnen.
Before belting out the song in the key of C, Barnaby explained that he was dedicating it to Scott Morrison because of how much he has changed over the past few weeks as past allegations of racism and bullying have come to light.
"Look, I might be a bit of a fuck up myself but I've never said anything that crook," Mr Joyce said to some friends and interested staff members.
"So yeah, it's, uh. Sad and disappointing to learn that about Scott. You think you know someone and then you read in the paper that he's done all this crook shit. Allegedly, I might add,"
"So yeah, mate. Can you put on that song about the sooky bloke with all the paint on him? That Victorian sook. The one having a whine about his missus jumping the fence on him or something."
The opening bars of "Somebody That I Used to Know" started to play.
"This's the cunt," he said.
"Dah dah dah dah dadada dah. Woah somebody that I used to know, now you're a fucken freak and no cunt wants to sit with you, woah! Now you're a fucken stranger and Albo is going to win, woah,"
"Anyway, you get the gist."
More to come.