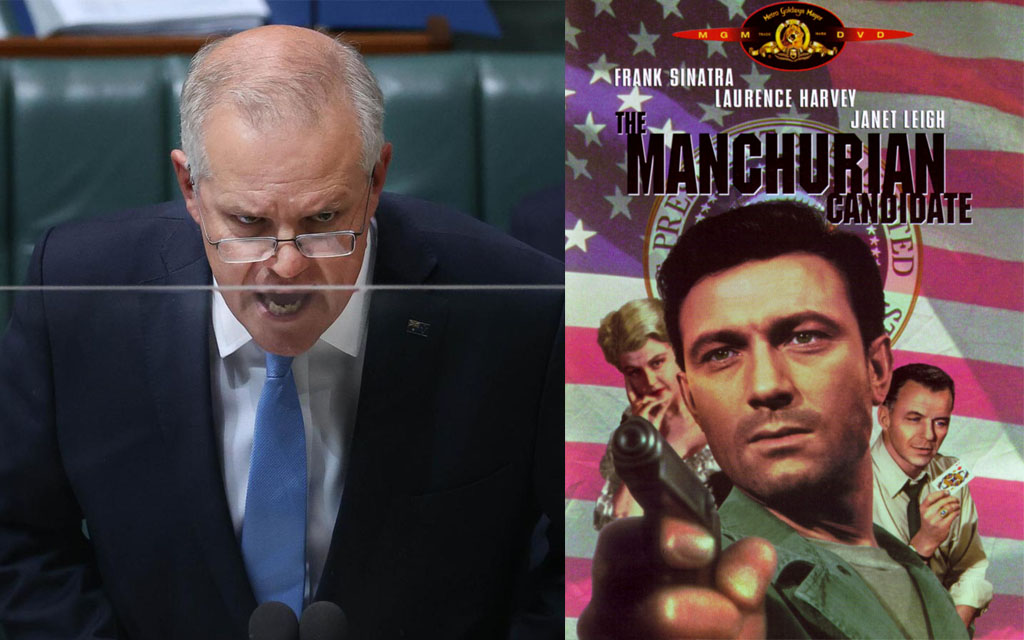 CLANCY OVERELL | Editor | CONTACT
As the Liberal Party's pre-election collapse begins to get desperate, Scotty From Marketing has again accused Opposition Leader Anthony Albanese of being too close to China,
This comment comes despite the clear warnings from multiple diplomats and intelligence officers that Beijing will take advantage of these kinds of social divisions that come from politicians trying to start culture wars to distract from their underwhelming leadership.
With the help of his mutineer Defence Minister Peter Dutton, the Prime Minister has used the past week to put together the narrative that Labor is soft on China and national security, an interesting accusation to come from a government that sold the Port of Darwin to a CCP-owned multinational.
In Parliament on Wednesday, Mr Morrison continued his hastily planned attack on the opposition leader.
"My government will never be the preferred partner of a foreign government that has chosen to intimidate this country and has sought to threaten this country," he said during Question Time, referencing the fact that China would prefer that Australia was run by a government that wasn't so committed to destroying any form of trade negotiations with highly inflammatory war-mongering.
However, it was the brutal sledge that came next that has Scotty's political opponents shook.
Referring to Mr Albanese as a 'Manchurian candidate; – a remark that he was forced to withdraw – he continued: "The Chinese Government has picked their horse and he's sitting right there. "
For an everyday Aussie bloke who loves cooking up a curry and building a cubbie house, it came as a surprise to many that the Prime Minister would reference a 1962 political and psychological neo-noir thriller staring Frank Sinatra – in his efforts to tarnish the reputation of his opposition.
In case you are one of the 95% of Australians who think 'Manchurian Candidate' has something to do with the English Premier League, the term comes a 1959 novel of the same name by Richard Condon. It is a political thriller about the son of a prominent U.S. political family who is brainwashed into being an unwitting assassin for a Communist conspiracy.
Morrison's since withdrawn comments have absolutely sent the Labor Party into damage control, as the Prime Minister begins wheeling out the ten-dollar-words that once featured quite heavily in his vocabulary, before he rebranded as a rugby league loving everyday suburban bloke who has never read a book in his life.
Political analysts expect this venomous sledge will soon be followed by countless Winston Churchill quotes and Orwellian metaphors, as Scotty transitions back into the elitist Eastern Suburbs blueblood that he has spent the last decade trying to hide from us.