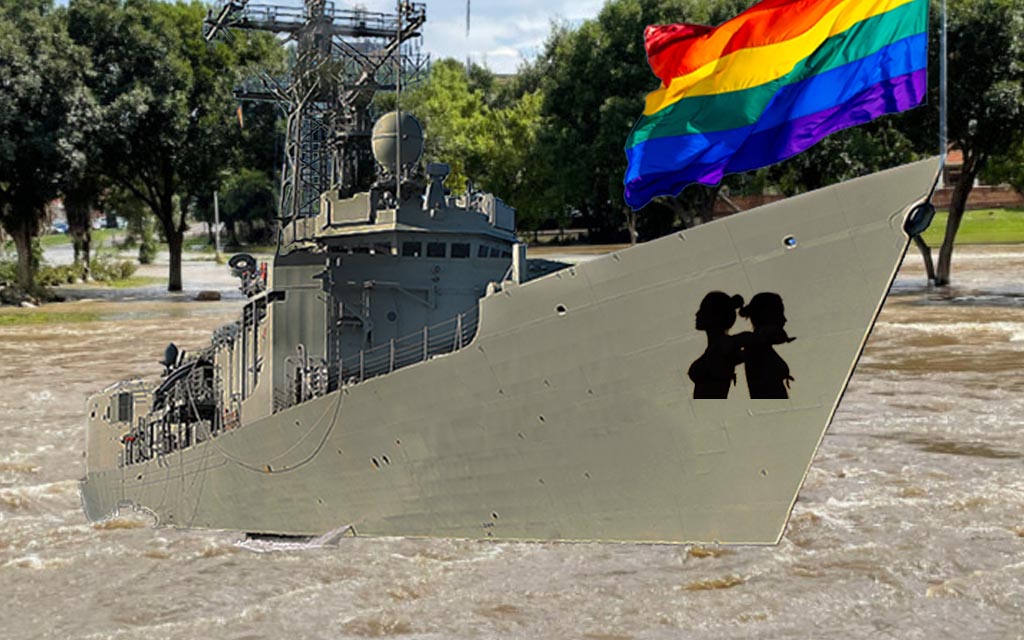 CLANCY OVERELL | Editor | CONTACT
Brisbane's thriving community of lavender-scented gentlemen and Subaru owners are today exploring alternative evacuation options out of the city, as the floodwaters threaten to dampen plans for a Sydney Mardi Gras glow-up.
This follows rainfall across South-East Queensland that has been unrelenting over the last three days.
Described by the QLD Premier as a 'rain bomb' – the downfall resulted in Kippa-Ring catching 135 millimetres in 90 minutes and Murrumba Downs copping 52 millimetres in half an hour.
Thousands of people were in evacuation centres across the greater Brisbane region after serious flooding across an area stretching from Maryborough and Gympie in the north, down the coast, west to Toowoomba and the Lockyer Valley, and south beyond the NSW border.
Flights to and from the South-East corner have been cancelled as a result of this major weather event, throwing the travel plans of the LGBTIQ+ community into disarray.
This has caused unprecedented drama within Brisbane's Queer community, after they powered through months of sit ups and leg raises in preparation for the 2022 Sydney Gay & Lesbian Mardi Gras.
After a series of rushed meetings, delegates within the Wickham street scene have today announced that the only realistic option is to charter a retired Navy vessel to take them all down south for this weekend's festivities.
Aptly rebranded 'The HMAS VERONICAS' – the ship is currently navigating through the flooded streets of Fortitude Valley, entering the Brisbane River via New Farm, and will then head out to open water.
Earlier in the week it had already been announced that fake tans were NOT an option for Brisbane's gays, as the BOM warned the torrential rainfall would almost definitely cause patchy results – a definite no-no for the Northerners attempting to put on a big show down in Darlinghurst this Saturday.
With power outages affecting sunbeds right across the city last night, the best bet for the tropical queens was to escape the weather event on the high seas, and spend the rest of the week sunbaking on the portside deck.
Initial concerns that Brisbane's LGBTIQ+ community would be unable to operate a 150-metre Destroyer class warship were quickly quashed, after several Lesbian delegates described the vessel as 'a glorified tinny' – citing their experience as maritime workers unloading freight containers at Fisherman's Island