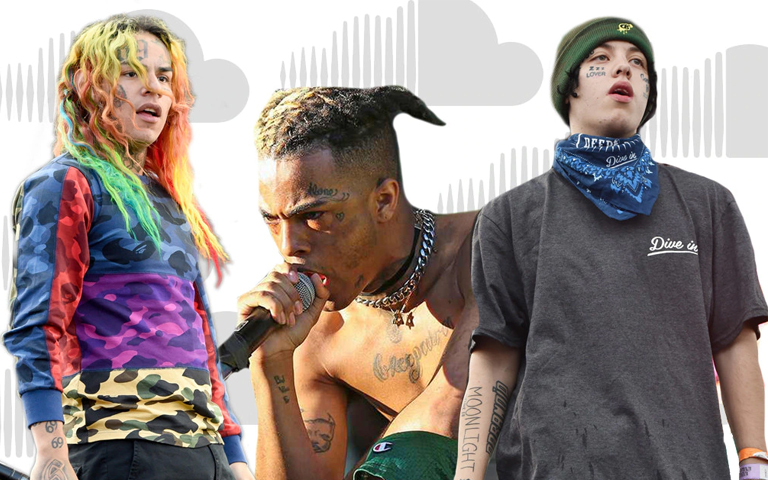 LOUIS BURKE | Culture | CONTACT
As hard as it is to remember, there once was a time where the only health hazards at live music events were crowd control, proper fire safety, hearing damage and good old fashion millennial anxiety.
But thanks to the spicey cough, concerts became so dangerous that we couldn't even have them at all. For two years, musicians, crew and venue staff had to put their livelihood on hold until such a time the world would be safe again.
And now it seems like that might just be the case as gigs return to cities like Melbourne, Brisbane, Adelaide, and maybe even just for a laugh, Sydney.
Unfortunately while most of the music industry is healing, some of us have had a quick look beneath the couch cushions and discovered the decaying corpse of SoundCloud Rap aka. Skinny Jean Rap aka. The One With Lots Of Face Tatts, Autotune And Saying 'Yeh'.
Pre-Covid, SoundCloud Rap was the hot genre doing the rounds with a new unsigned artist with 'Lil' in their name popping up every day to say "brrrr" on the music sharing website.
Due to growing public interest in the distinct hip hop style, artists such as 21 Savage, Lil Yachty and Doja Cat were able to gain worldwide popularity and eventual record deals based on their popularity instead of the traditional well connected dad.
While some of these artists are still charting high, overall interest in having more of them seems to have hit record lows which begs the question, did Covid kill soundcloud rap or did we all just admit that it made us uncomfortable?
Did the lack of public performances for two years diminish our appetite for inked teenagers with tie dye hair or did we all just silently agree they were being imprisoned/dying at a rate that was pretty high even for hip hop?
It all depends if you were a diehard fan or a casual fan.
For diehards, it doesn't matter how psychopathic XXXTentacion was, he died a legend and is objectively better than Tupac. With this in mind, it is easy to see why genre casuals were quick to drop SoundCloud rap no matter how many people insisted that Tekashi69 was actually a performance artist, not a filthy snitch.

Ultimately SoundCloud rap fans became the Harry Potter fans of music, ruining a perfectly good thing for everyone.
This was only accelerated by Covid as ditching SoundCloud rap became especially easy during a time when a Gamecube quality song about having sex on drugs featuring a 20 word vocabulary really didn't provide the comfort you needed. 
MORE TO COME.