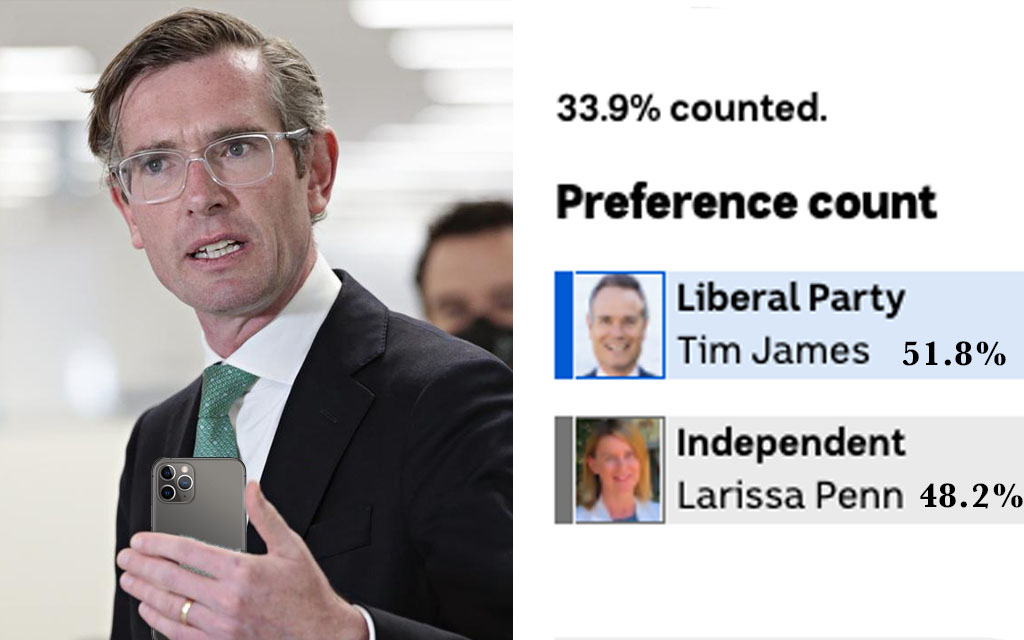 CLANCY OVERELL | Editor | CONTACT
NSW Premier Dominic Perrottet is just about at the end of his tether when it comes to the irreparable damage that Prime Minister Scott Morrison has caused the Liberal Party.
This comes as the NSW state government's hold on Gladys Berejiklian's former seat of Willoughby continues to slip, as preference counting narrows the gap between its cookie cutter Ralph Lauren candidate Tim James and the little known independent Larissa Penn.
Despite the fact that allegations of corruption have caused multiple resignations in his government, and the fact that he is still trying to shake the unflattering nickname 'Domicron' – the NSW Liberals were still pretty confident heading into Saturday's triple By-Election.
That was, before they realised they had grossly underestimated just how sick the people of NSW are of having mediocre bible-bashing Liberals rammed down their throat.
While some would say it is very petty of Perrottet to blame Scotty From Marketing for the fact that his government is staring down the barrel of losing the safest blue-ribbon seat in NSW, the Morrison Government's leaked internal polling shows that maybe this voter backlash is a federal problem.
According to the ABC, and a bunch of other commercial news outlets that have since tried to bury the story after taking angry phone calls from the Prime Minister's office, internal Liberal Party polling is showing the ALP ahead 59/41 on the two-party preferred Federal vote in NSW.
These catastrophic numbers can be put down to a number of things. Namely the bungled jab roll-out, the bungled booster shot roll-out, the bungled RAT roll-out, and the Prime Minister's treatment of women – specifically, the former NSW Premier Gladys Berejeklian.
Today, the Gladys Berejiklian's successor, current NSW Premier Dominic Perrottet is fucken done with these tupperware Christians in Canberra.
"If we lose this fucking seat I'm putting it down to two things…" Perrottet discreetly told the Betoota Advocate earlier today.
"1, the fact that the people of Willoughby have just spent three years watching their beloved local member get walked all over by some happy clapping dough-banging cunt from Cronulla"
"And 2, the fact that we do not have a Federal Government anymore. The blame has fallen on me. I'll cop that, but only if I get to share the blame with the people responsible"
"If we lose this fucking seat you better believe that Peter Van Onselen's phone is gonna be buzzing like a counter meal pager at the Mean Fiddler Hotel"
Larissa Penn, the Independent candidate responsible for the 20% swing against the Liberal Party in Willoughby was approached for comment, but she does not yet have an official email or any staff, because her entire campaign was horribly organised and very poorly funded.