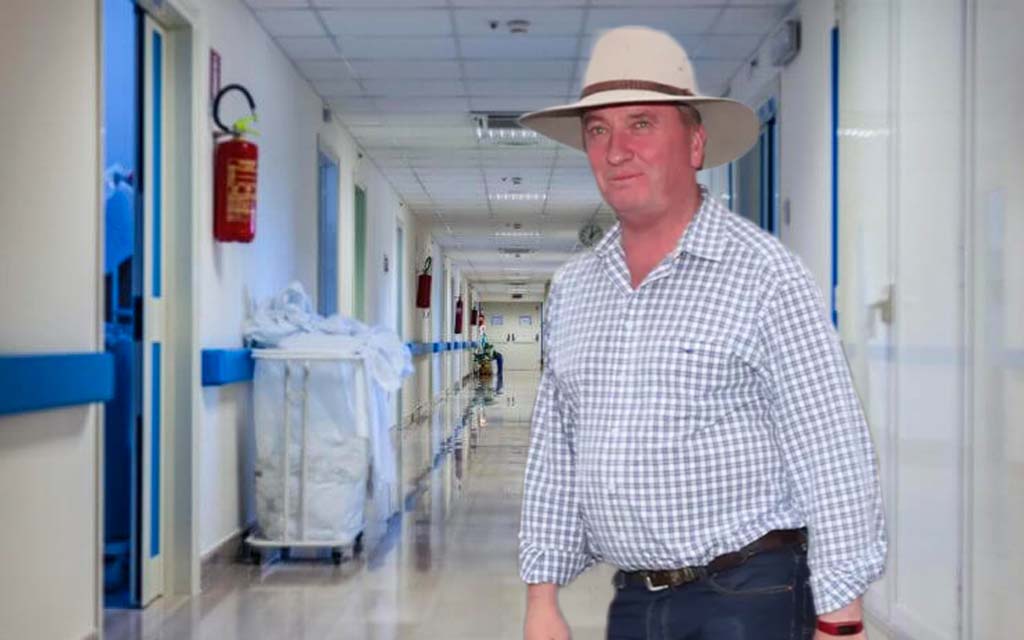 WENDELL HUSSEY | Cadet | CONTACT
The Deputy Prime Minister of Australia has received a bit of a rude shock after turning up at a hospital in his electorate today.
Hoping to get some photos with some 'front line heroes' for his election campaign, Barnaby Joyce was left looking for answers after being greeted by empty halls and bodies slumped across the waiting room of the Emergency Department.
"Bloody hell, it's like a ghost town in here," said the leader of the party that's consistently failed to use its voice to advocate for its constituents on one of the major issues facing regional and rural Australia.
"Where the bloody hell is everyone?" said Barnaby, glancing at a nurse sprinting past him in the corridor.
"Hey, excuse me miss is it smoko around here or what," he yelled, before remembering the news from yesterday.
"Oh, they must be at that strike," he laughed, assuming that the lack of frontline medical workers was due to industrial action rather than decades of underfunding and understaffing.
The confusion for the Member for New England comes after nurses travelled from across Sydney and beyond to march through the city's CBD to Parliament House in NSW yesterday.
The strikes have come after the states' nurses have had their grievances completely ignored once again, with an already underfunded and understaffed sector being pushed to breaking point in recent times.
Similar to situations all around the country, the state's nurses have been asked to please be treated like they are in charge of saving people's lives and caring for vulnerable Australian's on a daily basis.
That request is yet to be accepted by NSW politicians, who have no issue with giving themselves 190k meal and car allowance per individual per year.
"Makes sense why there's only one nurse to about 30 bloody people right now then," laughed Barnaby to The Advocate a short time ago.
"Unions mate, this is what they do. They organise a day off while ordinary people have to pick up the slack," he continued.
The hospital has since confirmed that no staff were on strike that day, and the empty hospital was simply a result of persistent underfunding.
More to come.