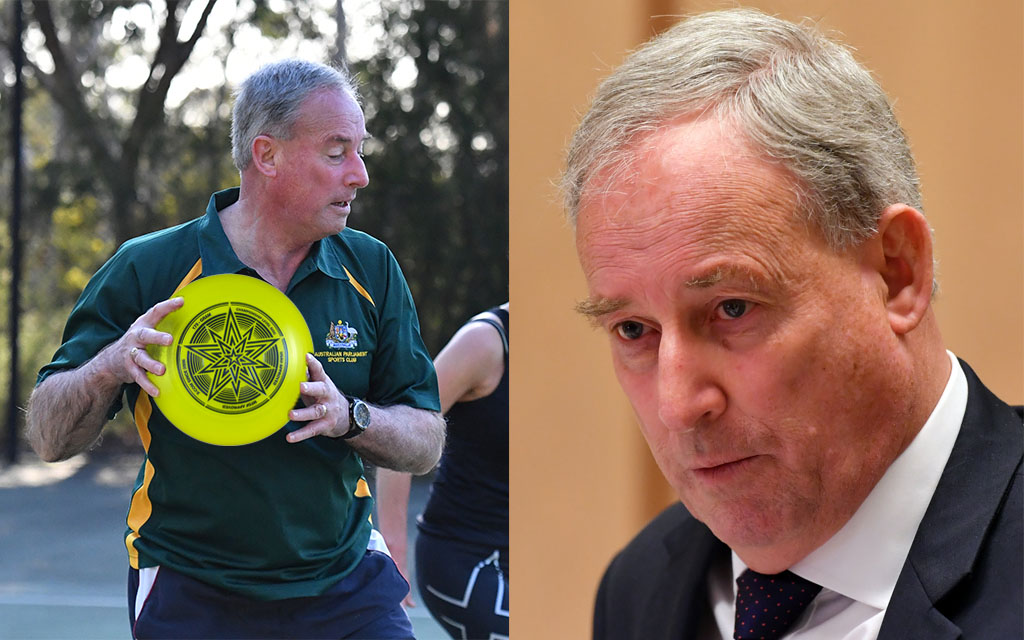 ERROL PARKER | Editor-at-large | Contact
A disc-shaped straw might've broken the camel's back this afternoon in Canberra after under-siege Aged Care Minister Richard Colbeck was caught playing ultimate frisbee on Sunday when he told Scott Morrison that he was at church.
Colbeck, a Tasmanian senator born on the mainland, has reportedly offered his resignation to the Prime Minister but it has not been accepted due to the upcoming election.
It's a move that has no doubt destabilised the government further, which some analysts have said has the structural integrity of a stack of greased encyclopedias and is in danger of total, imminent collapse.
This Sunday gone, photographers caught Mr Colbeck enjoying a game of ultimate frisbee in a Canberra Park when he should've been clapping his hands and shaking his arse at a local evangelical church.
The Advocate spoke very briefly to the Prime Minister this afternoon after his press secretary once again forgot that this masthead is not The Betoota Bugle, our town's local NewsCorp newspaper.
"It is disappointing that he lied to me and felt it appropriate to shirk on his responsibility to check in with the Lord and pay 25% of his wage toward growing the church, like every Australian does on the weekend," said Morrison.
"Instead of feeling washed of his sins, Richard threw a plastic disc around a park in Yarralumla. I defend his choice to do so, however,"
"It's what the ANZACs died for, in my opinion, for people to be free to play ultimate frisbee on a Sunday with mates. They also died for non-accredited religion-based colleges to grow and prosper all over the country. No tax, up yours Steve Bracks. That what we used to say,"
"Look, that's not the point, Richard offered to resign, I thought that was an overstep. Like Barnaby, they're not going to be able to escape when the ship hits the iceberg. We're all going down together."
More to come,