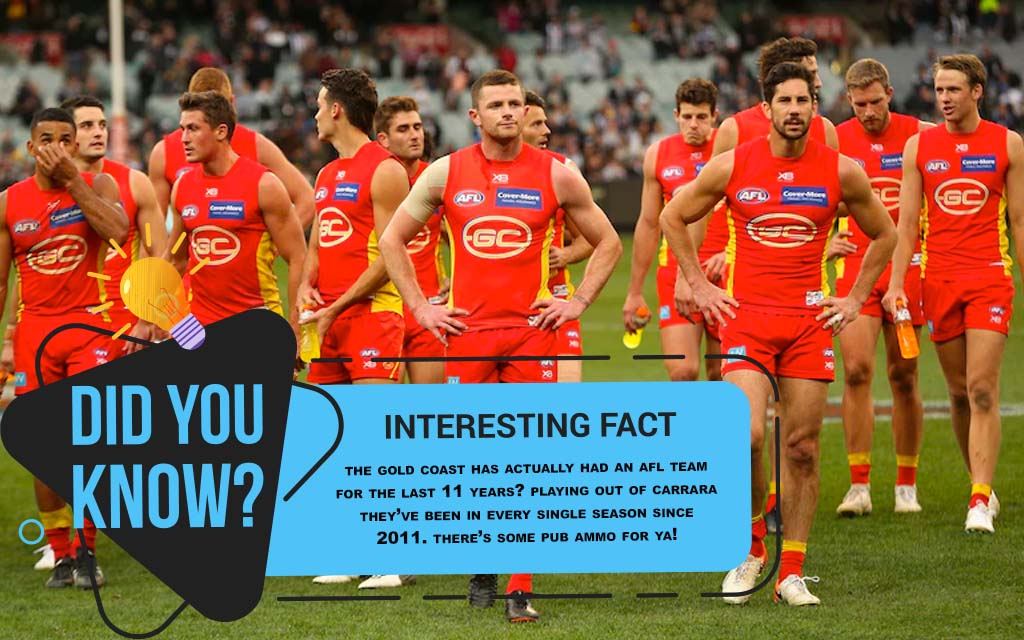 WENDELL HUSSEY | Cadet | CONTACT
Fun fact of the day time!
The Gold Coast has actually had a professional Australian Rules Football team for over a decade!
And they even play in the country's main league, the AFL!
Crazy right.
They even had a guy called Gary Abblett play there. Who is a big deal for AFL fans.
Their team is called the Gold Coast Suns, and is a fully professional Australian rules football club that competes in the Australian Football League (AFL).
The club is based on Queensland's Gold Coast in the suburb of Carrara, and has been playing in the AFL since the 2011 season.
The team plays home matches at Carrara Stadium and have their training and administrative facilities located at the adjacent Gold Coast Sports and Leisure Centre.
The club apparently came about as an effort to expand the AFL out of Melbourne, by creating a franchise that wasn't just another suburb of Melbourne.
While the poor old Gold Coast Suns have never made a final, there's apparently hope in the transient area that is the Glitter Strip – that maybe this year will be different!
So next time you're short of chat at the pub, there's a bit of ammo for you!