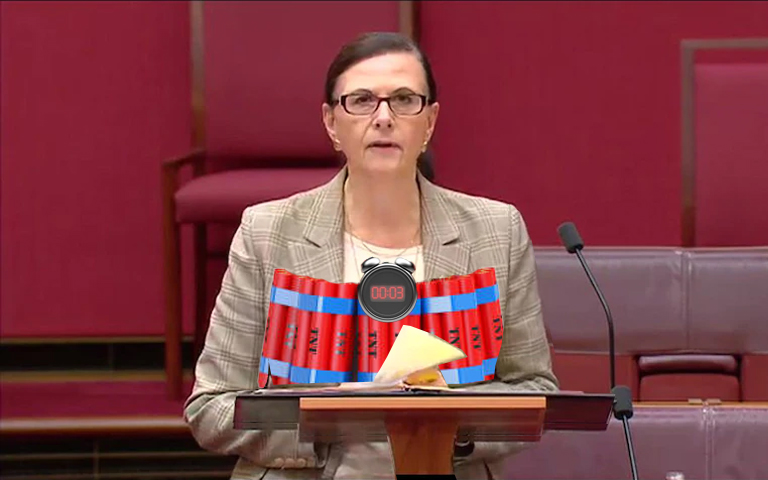 CLANCY OVERELL | Editor | CONTACT
The Morrison Government has today learnt that hell has no fury like a fed up Illawarra girl.
The outgoing conservative senator Concetta Fierravanti-Wells has taken a blowtorch to Prime Minister Scott Morrison in her final speech to Parliament overnight, after losing her pre-selection on the NSW Liberal Senate ticket to the politics of the Hillsong faction.
Fierravanti-Wells has branded Scotty a manipulator who uses his faith as a "marketing advantage".
"He is adept at running with the foxes and hunting with the hounds, lacking a moral compass and having no conscience," she told the Senate.
"In my public life, I have met ruthless people. Morrison tops the list followed closely by [Immigration Minister Alex] Hawke. Morrison is not fit to be Prime Minister, and Hawke is certainly is not fit to be a minister."
The Australian media is currently doing their very best to ignore the Senator's visceral spray towards her own party's leader, after Fierravanti-Wells outlined a culture of bullying and manipulation in the Liberal Party that makes Penny Wong look Noni Hazelhurst.
In fact, the inconvenience of an outspoken conservative woman would usually be quite unlikely to attract any media attention from the partisan Australian mastheads at all, let alone the Liberal Party themselves, who are much more interested in peddling the idea that their Opposition are the sole perpetrators of factional bullying.
However, it seems that the outgoing Senator may have taken the Morrison-worshipping of Australian newspapers into account. Hence her decision to use Parliamentary Privilege to make some accusations that not even Andrew Bolt can ignore.
Throughout the course of her speech, Fierravanti-Wells accused Morrison of pushing racial hot buttons to oust Liberal rivals, rejecting membership applications to rig Liberal pre-selections, and prioritising his Hillsong mates at every turn throughout his time Prime Minister.
"Stand back!" said the senator, unveiling a vest of 18 sticks of dynamite strapped to her torso.
"If I, one of the most loyal Liberal Senators to ever grace this boys club, am being rolled on pre-selection…"
"Then I'm taking all you happy clappers as well"
"You motherfuckers are all going down with me"