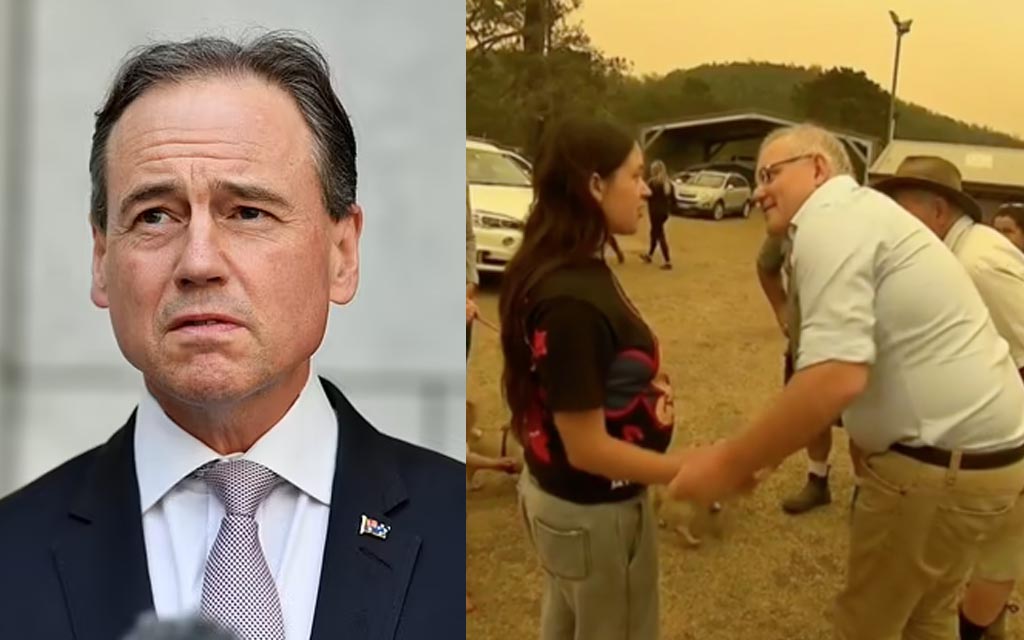 CLANCY OVERELL  | Editor | CONTACT
HE HAS DONE NOTHING TO EARN THAT TITLE: Health Minister Greg Hunt has today decided that the best strategy to deal with the Prime Minister's current leaked text scandal is to pretend that nothing has happened.
Hunt has insisted that no Federal Cabinet Minister called Scott Morrison a 'psycho' in texts to Gladys Berejiklian, despite the fact that their existence has been verified by multiple media outlets.
After the revelations came to light, Gladys Berejiklian has said she doesn't recall the text exchange where she is alleged to have referred to the PM as a 'horrible, horrible person' – but does not deny it happened.
However, Greg Hunt claims that journalist Peter van Onselen was lying when he claimed the bombshell texts were from a current Liberal federal cabinet minister.
'I don't believe there is any federal minister in this Cabinet that's involved,' Mr Hunt told ABC radio on Thursday morning.
Hunt is apparently one of Morrison's biggest supporters in the Federal Cabinet, perhaps because he's already announced he is not running at the next election and therefore is no way emotionally invested in any of the constant fuck ups that are causing generational damage to the Liberal Party's reputation.
The outgoing MP, who recently announced his retirement on the grounds of wanting to spend more time with his family that he's been locked down with for two years, and not because he feels dirty being part of one of the most self-destructive Federal Governments in living memory, insists that nobody in Morrison's cabinet would speak that way about their messiah.
"Scotty is a good bloke when you get to know him" he said.
"And he has impeccable social skills. Everyone that says he forces pregnant women to shake his hands out front of the burning homes are just left-wing snowflakes"
"Or anyone that says that he asks his staff to do background research and smear the reputations of alleged victims of sexually assault in Parliament House… These people don't know him like I do"
"He is not a psycho"
"He gets portrayed very unfairly in the 70% of the Australian media landscape owned by Rupert Murdoch"
"You don't get to see the great bloke that I get to see"