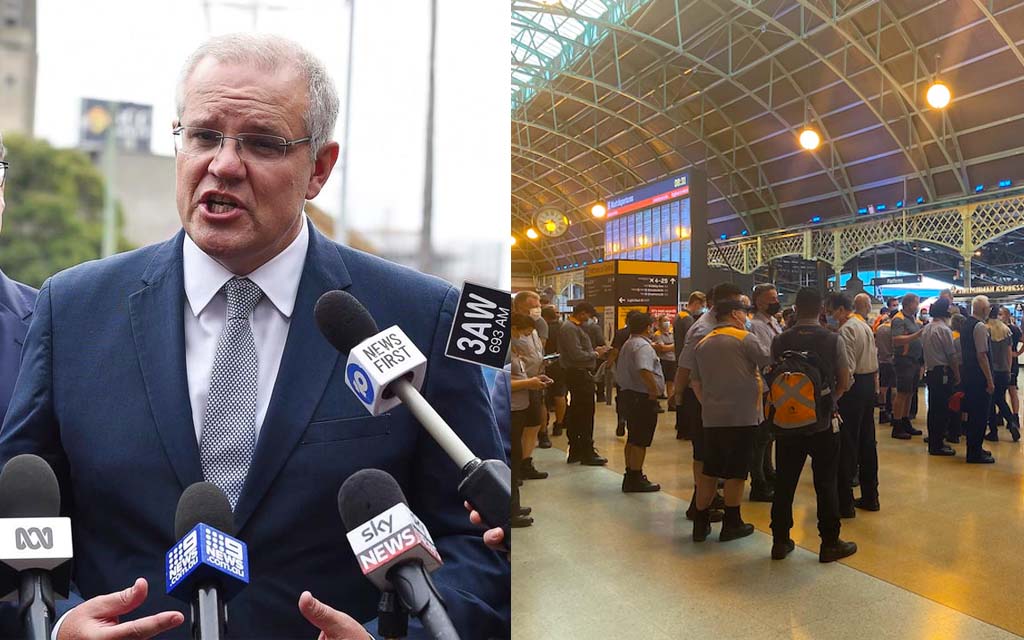 WENDELL HUSSEY | Cadet | CONTACT
As limited services resume on Sydney's Railways, the fallout from yesterday's shutdown has continued today.
This comes as a result of the now very public disagreement between the Rail Tram and Bus Union (RBTU) and Transport NSW (the government's transport body), which resulted in rail workers being locked out yesterday.
The city-wide shutdown caused chaos across the city, with plenty of everyday Sydney siders left confused about what the fuck was going on.
After negotiations between the union and government about working conditions broke down, it was initially claimed by the government that the union had 'engaged in terrorist-like behavior' by striking on the day when unis went back, overseas arrivals ramped up, and more people returned to work in the CBD.
However, after images emerged of huge numbers of railway workers turning up to work yesterday morning and revelations it was the government who locked the workers out, the NSW government narrative took a significant hit.
With a relatively small number of trains back up and running after the government lockout, the nation's Prime Minister Scott Morrison has decided to keep the firing burning.
Coming into bat for his Liberal counterparts and relishing an opportunity to pretend like the unions are akin to the Taliban, Morrison has attacked Sydney's train drivers for being locked out by the government.
"They know what they were doing," said Morrison this afternoon.
"They forced Transport NSW to lock them out by turning up to work to do their jobs."
"We don't negotiate with terrorists. That's plain and simple."
"And these guys trying to perform industrial action with as little impact as possible on everyday people by running a few services is an affront to our values and democracy.
The Prime Minister then refused to comment on why the NSW Government locking workers out on the vague premise of safety concerns which they refused to detail, was the worker's fault.
"I don't know how else to get it into your heads. The government locking the workers out to try and drive a PR wedge between them and the community is the union's fault."
"How hard is that to understand," sighed the frustrated PM.
More to come.