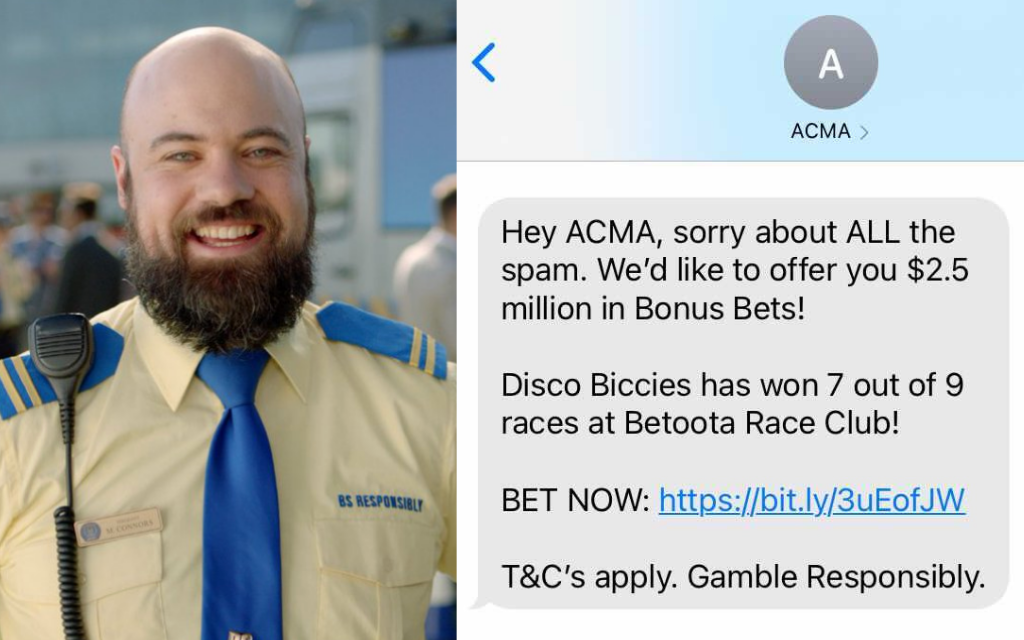 EFFIE BATEMAN | Lifestyle | CONTACT

Online gambling company Sportsbet has today been fined a staggering $2.5 million, after the Australian Communications and Media Authority (ACMA) found them guilty of sending more than 150,000 text messages to punters, who were unable to unsubscribe.
Sportsbet also has to cough up another $1.2 million to anyone who made bets after receiving the unwanted messages, between the months of January 2020 and March 2021.
It's alleged roughly 37,000 customers received the spammy messages, which provided news of upcoming races or offered incentives, such as bonus bets, to gamble again.
While spammy, it's believed the messages weren't as high volume as their TV ads, featuring a man who shouts at punters telling them to place a bet.
Though Sportsbet received several warnings from ACMA, it failed to not only comply with spam laws but also advertising laws regarding the promotion of gambling.
Of course, when the gavel finally hit and Sportsbet was slapped with the biggest spam penalty recorded to date, they thought they'd try their luck and offer to pay it with bonus bets,
Contacting ACMA this morning, the large multinational gambling operator asked if they could sort their bill out with bonus bets.
"We just thought, why not? They could turn those bonus bets into 5 million bucks in no time at all," said a spokesperson for the company.
"Obviously they'd have to turn any winnings over 5 times and would get blocked if they did in did win, but it could be a bit of fun for em?"
It's believed ACMA are set to turn down the generous offer, and are opting instead to ask for the money that has been whisked out of punters hands instead.
More to come.