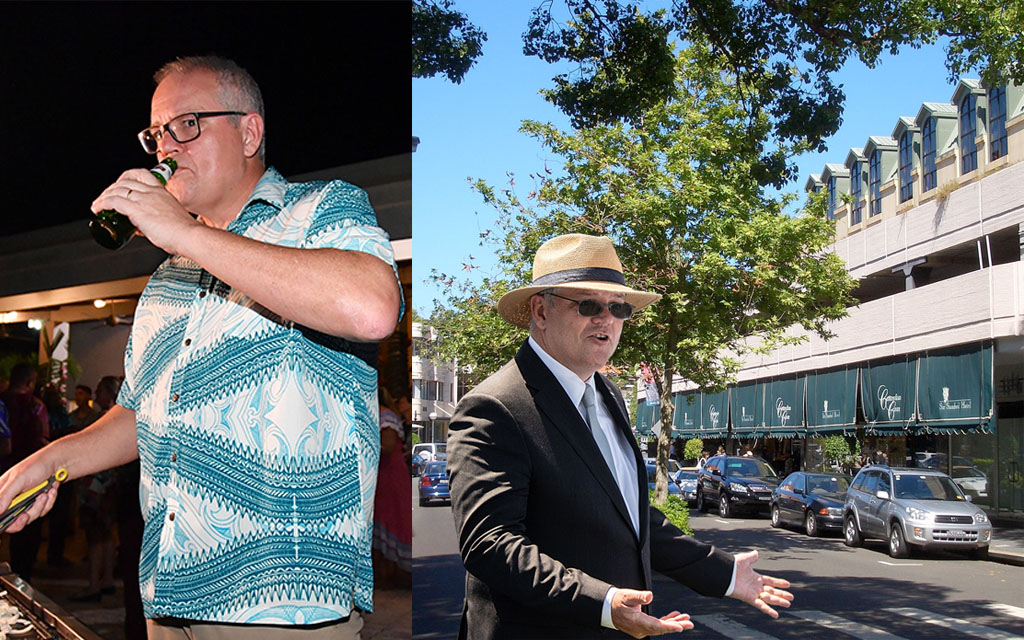 ERROL PARKER | Editor-at-large | Contact
After being ambushed yesterday at the National Press Club with questions regarding the cost of living, Prime Minister Scott Morrison has decided to give up pretending to be a dim-witted bloke from the Shire.
Scott Morrison has manufactured a new alter-ego overnight with the help of a focus group that represents a slither of the Australian populace – something that he hopes will be the miracle he needs.
"You know, I'm somewhat of a David Bowie fan," he told reporters today as he left flying business from Canberra Airport.
"So my work as a dorky Shire dad was essentially my Ziggy Stardust days. Now, I'm entering my Berlin days. This new version of Scott Morrison I'm taking to the election is my Thin White Duke. My adaptation of it."
Yesterday at the National Press Club, Mr Morrison was asked by Sky News' Andrew Clennel to name the price of certain household items such as milk, petrol, condoms, bread, Tooheys New cans and JPS Blues.
Morrison had no idea.
"I don't know. I can't pretend to know. All I know is that at 6pm, some guy comes and asks if I want to have something to eat and I say, 'OK', and then a few minutes later, some food appears. Same as the fridge, I open the door and it's always full. We even have a magic beer man who comes to fill up the fridge whenever I take a beer out,"
"In reality, I just come home after being at work and everything just happens around me. So rather than out-working-class Albo, my minders and strategists have decided to paint me as the complete opposite,"
"A detached Eastern Suburbs cash pig who has everything done for him except work and going to the bathroom. I feel this character is much closer to who I am on the inside so I think my performance in the election campaign will come across as being much more authentic than me having six goes at reverse parking my burnt orange Sante Fe at Miranda Fair in front of some cameras,"
"I'm not trying to be Malcolm Turnbull, I haven't got the professional pedigree, academic background, deep-seated loathing of cats or the business acumen to accrue 300 or 400 bars. I'm also terrified of the ocean so no, I won't be kayaking. But I do have a harbourside mansion and I do have a few Tom Ford suits so watch this space."
More to come.