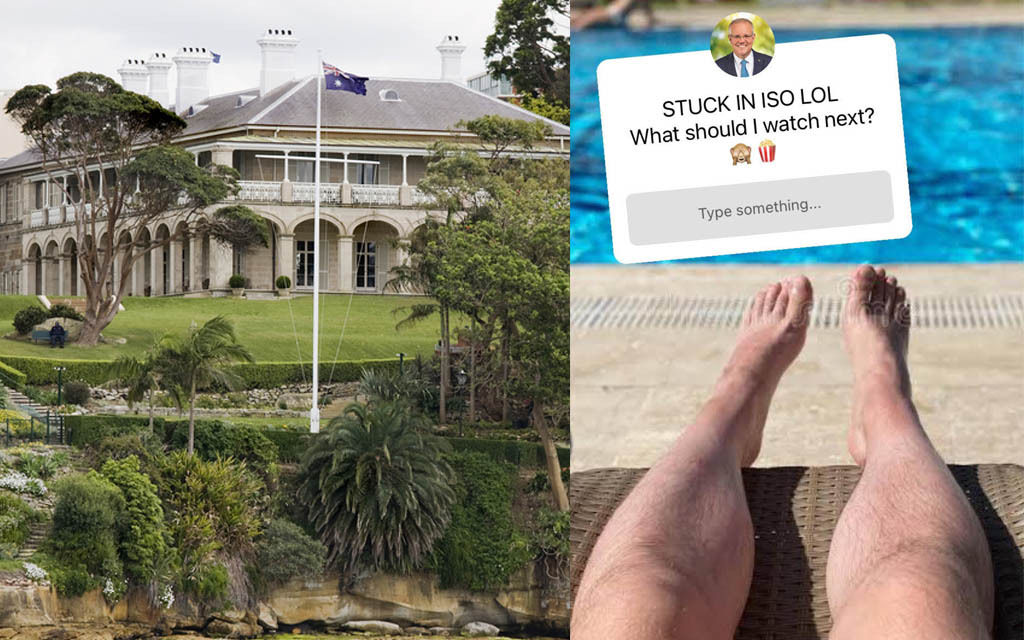 KEITH T. DENNETT |New South | CONTACT
After a long week of tax-payer funded sick leave, Prime Minister Scotty From Marketing has reportedly decided to treat himself to a self-care Saturday, before setting up his night in with some classic #hotgirlshit content.
Dressed in his favourite pair of Flamingo Sharkies Budgy Smugglers, the leader of our nation is reportedly attempting to recreate his infamous bushfire Holiday, with a little at-home 'staycation' by the pool.
Lazing upon his Palm Cove Sun Lounger, it's understood after rejuvenating himself with a coffee bean body scrub and a fresh leg shave, Scottie has decided to lay a little thirst trap for any of his followers that want to know what he's up to.
With legs feeling silky smooth and pool water glistening in the background, Scotty is believed to have asked Instagram: "STUCK IN ISO LOL – What should I watch next?".
The Instagram story, which has been seen by The Advocate, is believed to be decorated with a see-no-evil monkey and a popcorn emoji, which all social media users under the age of 35 would understand is a clear baiting method for someone scanning their followers for a "Netflix and Chill" partner.
Speaking to our reporter, the Prime Minister said it was simply a playful post, to crowdsource some suggestions for what TV show he should try and binge next.
"I tried watching that Euphoria one, after I thought it was about God's almighty divine power."
"But one episode in and there was some girl-on girl action, even if it if Mardi Gras week, that's way too much smut for me!"
Asked if he had any plans for the 2nd week of his 'iso-cation', Scotty supposedly told our reporter that his team are already trying to pull him off the couch to address the National emergency in Lismore.
"God, they want me to put on a Driza-Bone, head up to the Northern Rivers and get some photos of me distributing baked bean tins."
"There's no way I'm going up there to support the clean up, I don't hold a shovel mate!"