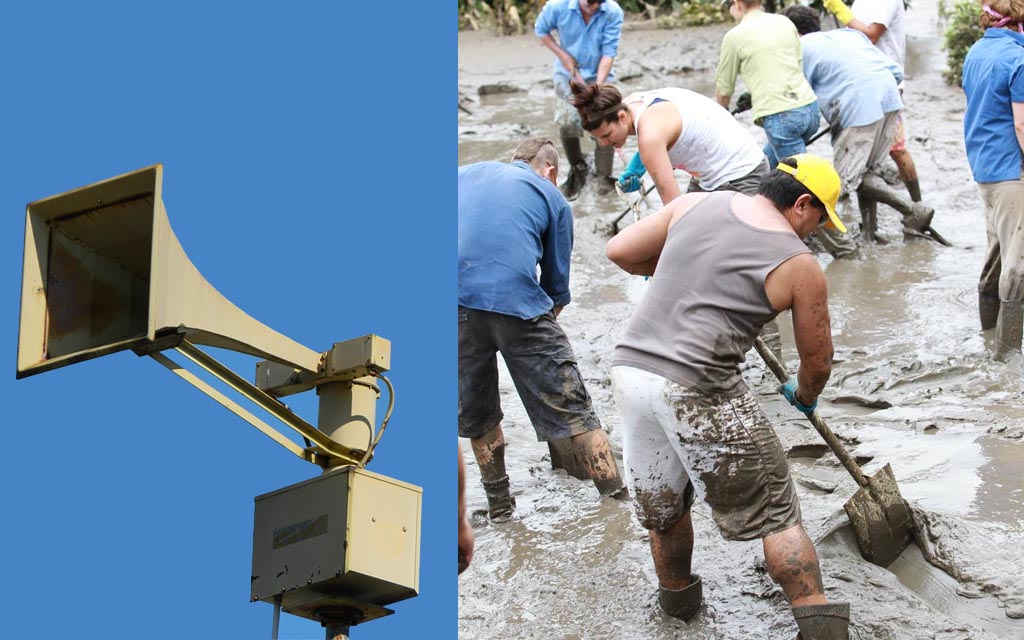 CLANCY OVERELL | Editor | CONTACT
As Brisbane's floodwaters begin to recede from today's 9:30 peak, the clean-up is already beginning in some suburbs.
With the blue skies finally draping the city in sunshine, Lord Mayor Adrian Schrinner said now is the time for his mud soldiers to come forward and register to help out.
"We're launching registrations for the Mud Army," he told Brisbane talkback this morning.
"With our registrations, we can register people to help but we can also register people who need help."
The official term 'Mud Army' dates back to the weeks after the 2010/2011 Queensland floods, where a great wave of volunteers descended on the affected suburbs, armed with shovels, brooms, rubber gloves and high-pressure water cleaners to provide relief for their devasted fellow citizens, many who had lost it all.
Alongside the Army Reserve and emergency services, everyday Queenslanders made use of themselves during this unprecedented time off work. At its peak, this wave of volunteers, strangers, reached around 200,000 – with some even arriving at damaged workplaces and residences with heavy duty earthmoving equipment.
Today, the call-out has been made once again – as the Lord Mayor of Brisbane sounds the sirens of the emergency 'Powderfinger' sirens.
'The Powderfinger Siren' (also known as a Finger Siren or an Odyssey siren) is a siren used to provide emergency messaging to the general Queensland population, informing them of a need for volunteers to show a bit of elbow grease.
It is sometimes sounded again to indicate the danger of a natural disaster has passed, signalling good times ahead. Some sirens (especially within small towns) are also used to announce the arrival of a new shipment of cold beer.
Today, as the dulcet tones of Bernard Fanning permeates across the waterlogged Brisbane landscape, the Powderfinger siren only means one thing: Put on your gumboots and a wide-brimmed hat.
"As soon as we are ready to start cleaning up, we will let people know." said the Mayor.
"Stand by, Mud Army"
With the city still locked into a state of emergency, one exciting plus side to hitting the streets with a shovel and a broom is the fact that you can literally cruise around the city in the tray of a ute with a carton of Gold cans on your lap.
Register for more information here: https://www.brisbane.qld.gov.au/community-and-safety/community-safety/february-2022-severe-weather-event-council-updates-and-impacts/mud-army-20