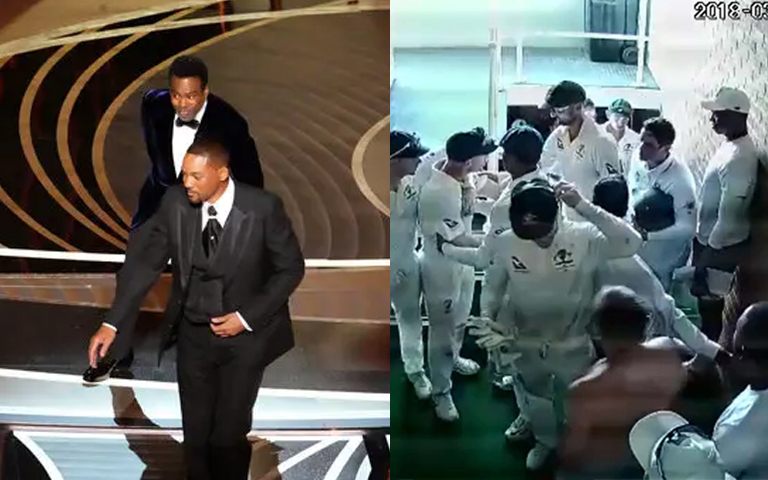 CLANCY OVERELL | Editor | CONTACT
As the glitz, glamour and drama of the 2022 Oscars continues to unfold – one moment that will make the history books surrounds the actions of Will Smith just an hour ago.
Smith slapped the host Chris Rock in the face live on stage during the 94th Academy Awards, after the comedian made a joke about Smith's wife, Jada Pinkett Smith, referring to her as "GI Jane".
The 52-year-old actor was seen going 'full David Warner on day four of the first test in South African in 2018'.
Surprisingly, very little comparisons have been made between Will Smith's actions and that of David Warner's – as one man is held to a much higher standard of conduct in the face of offensive comments being made about his wife, in front of his laughing contemporaries.
Jada Pinkett Smith has a shaved head, due to alopecia. This is what appeared to instigate Smith's outburst.
He then returned to his seat and shouted to Rock to "keep my wife's name out of your fucking mouth" – twice.
Will Smith then went on to win the best actor for his role as Venus and Serena Williams' father in the new sporting biopic 'King Richard'.
However, the incident appears to have shocked the film and TV industry both in the audience and back here in Australia, with countless pearl-clutching lefties telling the world how rattled they are by a black man behaving the same way anyone else would outside of their cotton-wool wrapped world of twitter commentary.
Unfortunately for those who would prefer that Will Smith just shut up and play a conformist goofball in a new rom-com every three years, the incident was immediately overshadowed by the actor's career defining achievements. Similar to how David Warner's melee with South African cricket Quinton De Kock was immediately lost in the wave of headlines surrounding the ball tampering scandal.
Twitter is currently alight with boring intelligentsia hot takes provided by the type of people who've never been in a pub west of the CBD on a Friday afternoon.