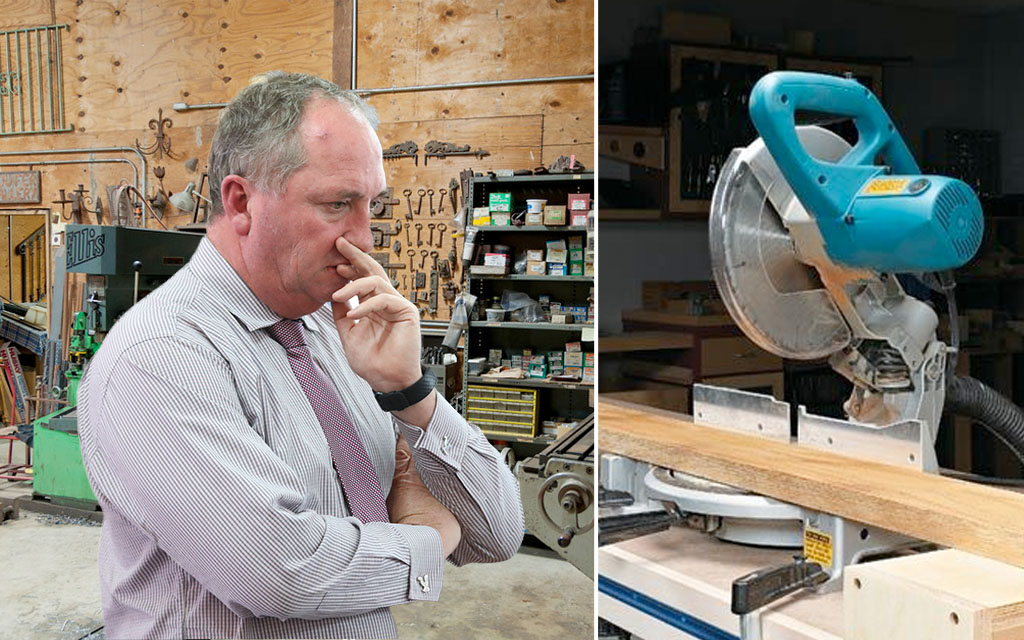 ERROL PARKER | Editor-at-large | Contact
With the world teetering on the brink of all out war and half the eastern seaboard underwater, Scott Morrison announced this morning that he has the spicy cough and needs to put his feet up for a week at home.
While Scotty says he's working from home in a full capacity, the Deputy Prime Minister Barnaby Joyce this morning psyched himself up in his Armidale workshop and chopped his pinky off with a drop saw.
Mr Joyce's Office explained that this was an accident and Barnaby is doing OK. His finger has been saved and will be reattached later today in Tamworth.
In a statement released to the media, Barnaby said he is annoyed that he too will have to spend a week or two at home to recover from the dreadful event. He will also be working from home in a full capacity.
"I was just chopping up a bit of kindling from some scrap timber and the phone bloody rang and whooshka, my bloody pink is off in the saw dust!" he said.
"Didn't hurt until we got in the car to head to town. The surgeon said it'd be a piece of piss to reattached because the saw blade was brand new. Cut straight through it,"
"And look, while Scott Morrison has the virus, someone needs to step up and lead the country from the front. Be there, etc. Unfortunately, it's not going to be me. It's not going to be Scott, either,"
"Look, it might be Josh but he can't swim so I don't think they'll let him off the chopper. Peter [Dutton] has already put his foot in it with the GoFundMe. So yeah, anyone's guess."
More to come.