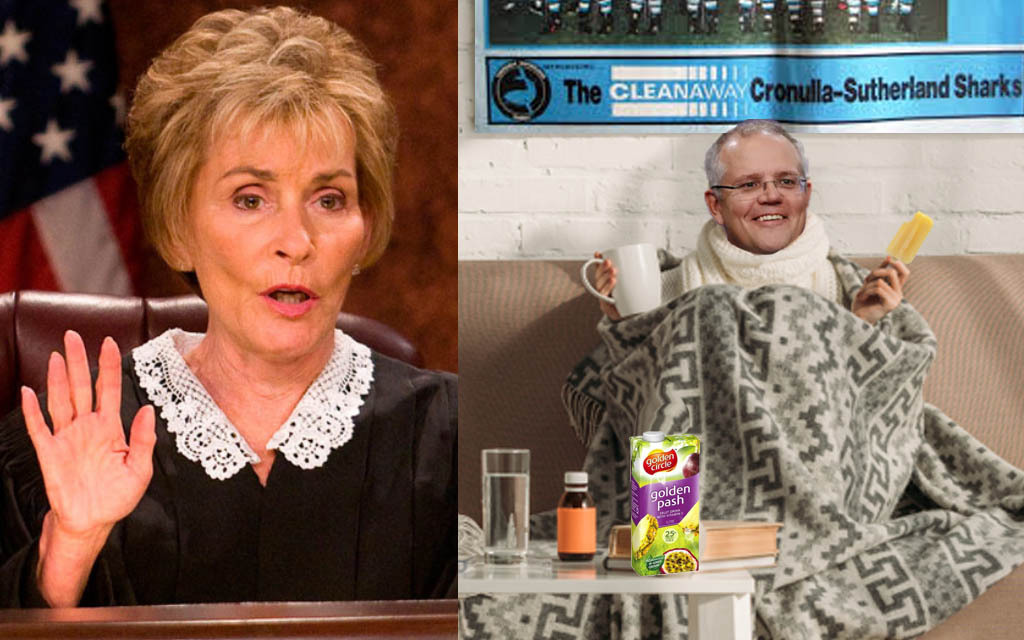 EFFIE BATEMAN | Lifestyle | Contact

As poor Scott Morrison bravely battling the spicy cough at home, he's now navigating the rite of passage every Australian school kid has faced, of trying to entertain themselves while chucking a sickie.
Bored of scrolling through his phone and not in the mood to get invested into a television series, Scott figured he'd try his hand at understanding the common people by popping on some free to air TV, which is when he stumbled across Judge Judy. Though he wouldn't ordinarily linger at the sight of an angry woman, Scotty had entered into somewhat of a delirious state and wasn't operating at his max misogynistic capacity.
It's alleged the episode was an absolute scorcher, featuring Judge Judy in her peak form – prompting an eruption of applause from Scott.
"YEEEES you tell 'em Judy!"
"How dare that woman not offer a refund, that bleach job is ATROCIOUS!."
Taking a moment to kick off his blanket, which had grown overheated in his excitement, Scott is said to have spent the next half hour completely mesmerised by Judy's sharp intellect, letting out the occasional hysterical giggle when she delivered a zinger.
"HAHHAHAHA how do you like THEM APPLES!"
"What a woman."
More to come.