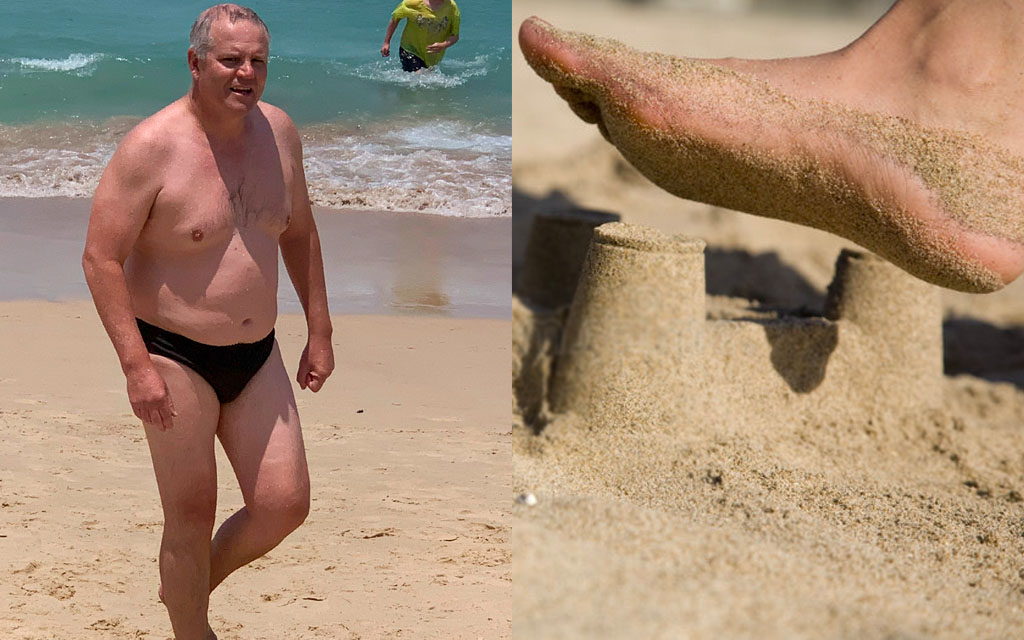 LOUIS BURKE | Culture | CONTACT
As an election looms with the ominous roll of a wheelie bin stickered with your own face, Scotty has read the room for the first time ever and decided he needs to do a few things to improve his image.
In what is being described as an 'only way is up' approach, the Part Time PM has punched in his time card and popped down to South Cronulla Beach in his division of Cook to knock over a few children's sandcastles.
Popping on a pair of thongs that still had the price tag attached, Scotty rolled his pants up to his knees and began knocking down children's sandcastles in the hope people would forget that he called Brian Houston his mentor a number of times.
"In other countries the sandcastles are being knocked over by bullets but not here," stated Scotty as he put his foot right through the sandcastle young Caleb had spent hours working on.
"They won't even let me have a gun anyway."
After destroying roughly half a dozen sandcastles, witnesses and the roughly 20 photographers from the PMs office claim that Scotty developed somewhat of a swagger and took to kicking the sandcastles like he was kicking for conversion.
"Look at me go I'm like…the guy who does the kicks…sharks player, I'm like a sharkoes player!"
"This isn't a flash day for anyone! Cept me!"
The only sandcastle on the beach the PM did not destroy was one by little Eliza Dunn whose sandcastle was destroyed naturally by the rising tide. Although she asked multiple times for the PM to visit her destroyed sandcastle, Scotty never did.
At the time of writing it is believed that a $150 million grant has been allocated to rebuild the sandcastles destroyed by the PMs photo opp.
Other appearances designed to improve the PMs image include him talking during a movie, merging without raising a hand in thanks and bringing a loud, badly behaved child to a nice restaurant.
"Barnaby's still good for that yeah?"